Campagnolo Wins Again--Decisively!
Our 1998 Tour Wrap-Up


Is there anything more important than which component gruppo the riders in the Tour de France used? You decide. Here's our rundown of how Campagnolo-equipped riders did this year . . .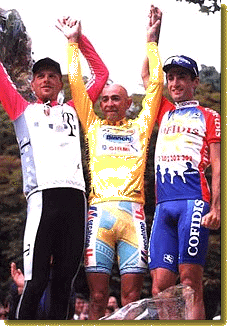 Top three podium finishers (left to right) Jan Ullrich (Telekom), Marco Pantani (Mercatone Uno), and Bobby Julich (Cofidis) all used Campagnolo. Photo source: Campagnolo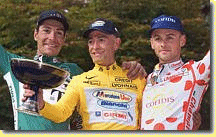 Jersey winners (left to right) Erik Zabel (Telekom), Christophe Rinero (Cofidis), and Marco "Il Pirata" Pantani all used Campagnolo. Photo source: VeloCity

---
One of our readers, Bruce Wells, did a little post-Tour research . . .
"Hey, now that the TDF is over and Campy won again, I was interested to see just by how much they won. So I had a look at the final results of all the competitions, Overall (Yellow), Sprint (Green), Climbers (red polka dot), Combativity (Red number), and Youth.
Well, in the overall category, you have to go all the way down to 6th place to find a non-Campy rider!
Shimano did a bit better in the sprint at a second place spot.
Campy won first and second in the climbers competition (so much for Shimano being lighter!).
Campy took the first and second spots in the youth competition also.
The only place Shimano had any luck was in the Combativity category. It seems Campy only placed 6th in that ranking. Well, if the Shimano riders can't win, at least they try hard! Hey, maybe they should switch to Campy and join the big boys.
Campagnolo does it again, and this time with conviction!"
Thanks, Bruce! And congratulations Campagnolo!
---