Folks, this is real--we have the original in the Campagnolo Only archives to prove it!
One of our readers, Frank Cunningham of Arlington, MA, had this ad from the April 1996 edition of VeloNews (a cycling publication which to this day refuses to acknowledge Campagnolo Only!) posted at his work space. He wanted to share it with the world--and we obliged by posting it here.
We think the ad speaks to the opinion that ShimaNO's ad people have of their client's equipment. Can you imagine Campagnolo advertising their equipment as a rolling barf bag??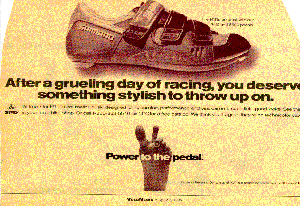 "Something stylish to throw up on"? We have more about to say we agree. If we had to race on ShimaNO equipment all day, we would barf, too!
Thanks, Frank for sending this to us! You can share your cheap humorous ShimaNO ideas by E-mailing them to us!