Marco Pantani's Tour-Winning Bike (1998)
(Campy-Equipped, of course!)


One of our faithful readers, Henrik, caught up with Marco Pantani at a local race near Copenhagen, Denmark, a few weeks after Marco's victory in the '98 Tour de France, and sent along a few photos. Henrik writes,
"Hello Eric. Here you have the pictures of Pantani's bike. Note that he is using tubulars on his Electron wheels, even for this small race. He seems to love this bike. In the Giro he used the normal team bike on the flat stages, but since the mountains he has not been apart from this ultralight "hillclimber" (except for time trials). I think the weight is about 7 kilos, but is is of course a very small bike.
The use of a downtube lever and the modified Ergo lever is a funny detail. It is very unusual these days to see homemade stuff like this on a pro's bike, and he even won the two major tours on it--it's a classic bike, this one!
Note his name on the top tube: "Pirata" He seems to like that name more than "Elefantino." Pantani was in a windtunnel this winter to test and improve his position on his new time trial bike. The biggest aerodynamic problem must have been his ears!
The last photo shows Pantani on the podium with Ole Ritter, a former Danish pro racer. He had the Hour Record until Eddy Merckx beat it. Ritter was the first to go to Mexico to do records.
Henrik"
Now, the photos . . .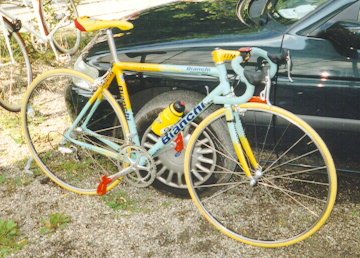 Marco's bike--Note the yellow tubular tires.

The winner's controls. Marco has removed the internal parts and the
shift levers from the lefthand Ergo lever, and uses a downtube shifter for the
front derailleur. Bianchi's web address is on the sloping top tube--
this is definitely a modern bike!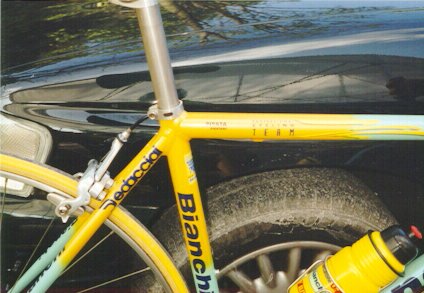 Marco apparently got one of the '98 Record seatposts before they
decided to pull them from production. Note the lugless construction
of the frame.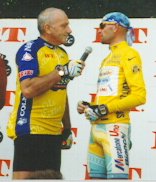 Ole Ritter, former Hour Record holder,
and Marco Pantani, Campy-using Tour winner.