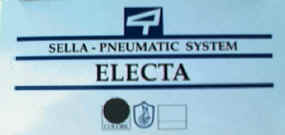 In the mid-1980s, Campagnolo made a short-lived foray into the world of bicycle saddles. This is perhaps the only time that Campagnolo competed with Cinelli, the famous Italian maker of frames, bars, stems, and saddles (as the story goes, Campagnolo and Cinelli agreed early on not to compete in each others' areas). The saddles never sold well, and the line was dropped after a few years on the market. Remaining Campy seats are fairly rare.

The Campagnolo saddle line comprised up to five separate models. Shown here from the Campy Only webmaster's collection is the "Electa" version, featuring the "Sella-Pneumatic System," which allowed the rider to fine-tune the firmness of the saddle by inflating and deflating a bladder sandwiched between the leather upper and the saddle shell. This seat features gold-plated trim at the front and rear, and a presta valve fitting under the nose of the saddle into which air could be pumped to adjust the seat.

Thus far, we haven't mounted our Electa on a bicycle, but reader Mike Rawlings wrote in with his impression of this saddle:
"At first I rode it without any air in the bladder. It was easier to get the pitch and fore/aft adjustments correct this way. After a 40 mile ride I thought it was anatomically correct but harder than my Brooks swift. After that I put in the max. recommended pressure , 2bar. I believe , and have been riding it ever since. It's now my favorite saddle with approx. 500 miles on it. I've been using a spray like Armor All and it looks great and beads water nicely in the rain (something a Brooks doesn't do).
--Mike Rawlings"
A few other impressions from our own unridden saddle:
The workmanship on the saddle is very good. The leather upper is stitched at the edges to the shell with a heavy stitching that says, "This saddle is made to last."
Perhaps it's because our saddle sat unused for some 15 years, but the leather seems rather stiff. That may be again a measure of durability--once it is "broken in," this seat will likely mold to the rider and get even more comfortable.
Looking for your own Electa? A seller named wwcyclery apparently has a number of these, and has been selling them through Ebay. Happy bidding!
Postcript: Did you know that "Sella" is Italian for "saddle"?