Campagnolo has long produced parts for a number of motorsports manufacturers, including Ferrari. Reader Bob Vaeth sent these photos and description of his immaculately restored 1965 Ducati, which features Campagnolo-made brakes.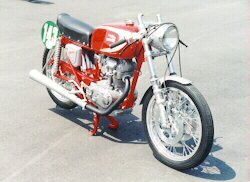 Bob writes,
"Here is my 1965 Ducati Mach I motorcycle with Campagnolo mechanical disk brakes. The engine is 250cc and was the high performance line for Ducati. I restored this bike myself a few years ago including the paint, engine work, etc.
These were manufactured from approximately 1964-1968 and then became hydraulic. Their use was limited and therefore rare. They were seldom seen on production motorcycles and were sold for aftermarket use on custom racing and street motorcycles. The brakes and hubs are made to the same standards as the Campy bicycle components--everything is lovingly machined and polished. It is triple disc, two front brakes and one rear--the rear brake is seldom seen making it very special.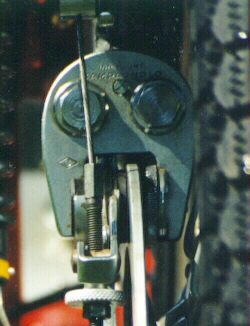 Everywhere I go, a crowd seems to form around my bike (including many bicyclists!)--all down to the ground looking with amazement at the brakes!"
Bob is interested in linking up with anyone who can offer more information on these brakes--Email him at amaranth143@comcast.net
The photos:
Above is Bob's Ducati, to the right is a closeup of the mechanical disc caliper--note the "C-in-a-diamond" trademark and the "Campagnolo" at the top between the two bolts. Below is the impressive front end--check out the dual discs!