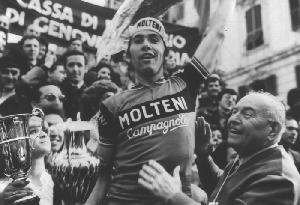 Eddy Merckx's Eulogy at the Funeral of Tullio Campagnolo
Eddy Merckx, one of cycling's greatest legends, used Campagnolo equipment exclusively during his unmatched career. When Tullio Campagnolo passed away, he came to the funeral, and delivered this stirring eulogy:
"Dear Commendatore Campagnolo:
On behalf of the cyclists all over the world, of those known or unknown, I address to you from this square of this church a touched good-bye. You deserve to belong to our life's memories because, rider like us, you have known before us our fatigue, and you have helped us.
You have done it with that generous intelligence that was the fruit of your goodness as man and as entrepreneur.
You have been the most faithful and precious of our helpers. You arrived first for seven times, with me, to the goal of the Milano-Sanremo; you were with me under the snow the day I was climbing victorious, the road of the Tre Cime di Lavaredo. I shared with you every success.
In telling you good-bye in the name of all the presents and of those who regret not being here, I wish to repeat an act of faith heard in this church.
You will remain with us, riders of all ages and of all classes, as a dear and unforgettable road fellow. A good friend.
I tell it to you in a bad Italian, maybe, but with an Italian heart because, thanks to you, there is a piece of Italy with your name on all the bicycles of the world.
Your memory will remain always with us.
Good-bye
---

Back to the Campagnolo History page!

Breakaway back to the Campy Only page!